 ❤ Demystifying The Mystical Vrindavan ❤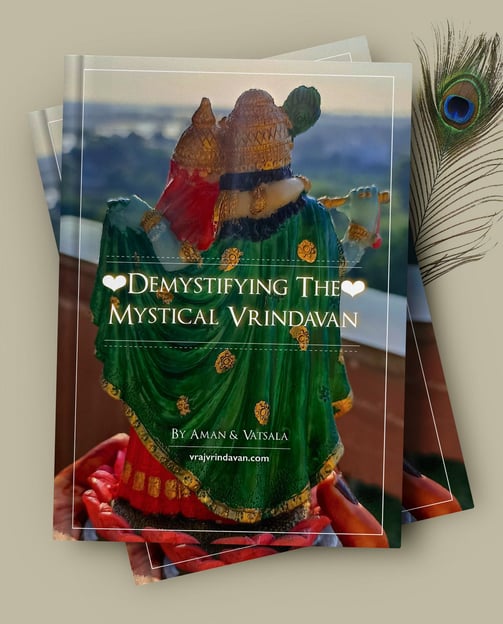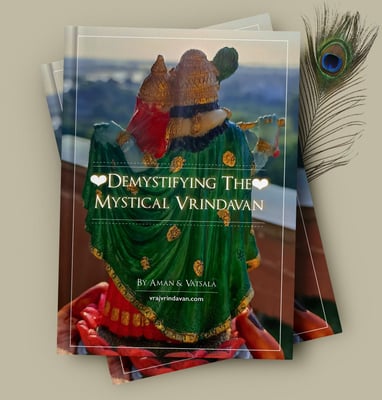 Dive into the inner confidential Vraj Prema Bhakti
|| श्री राधा ·
Sri Radha ||
This book is a scientific research presentation & invaluable theological thesis of gradual spiritual progression to the innermost, confidential, sweet & blissful Vraj Prema Bhakti, as taught by bonafide Acharyas.
Vrindavan is the abode of love! The abode of ❤ of our Queen Srimati Radharani and Shyamsundar Krishna!

Everything about Vrindavan is so mystical, unknown to the general world!

Hence, we need to dig into the words and teachings of bonafide Acharyas to decode what is so special about this mystical Vrindavan!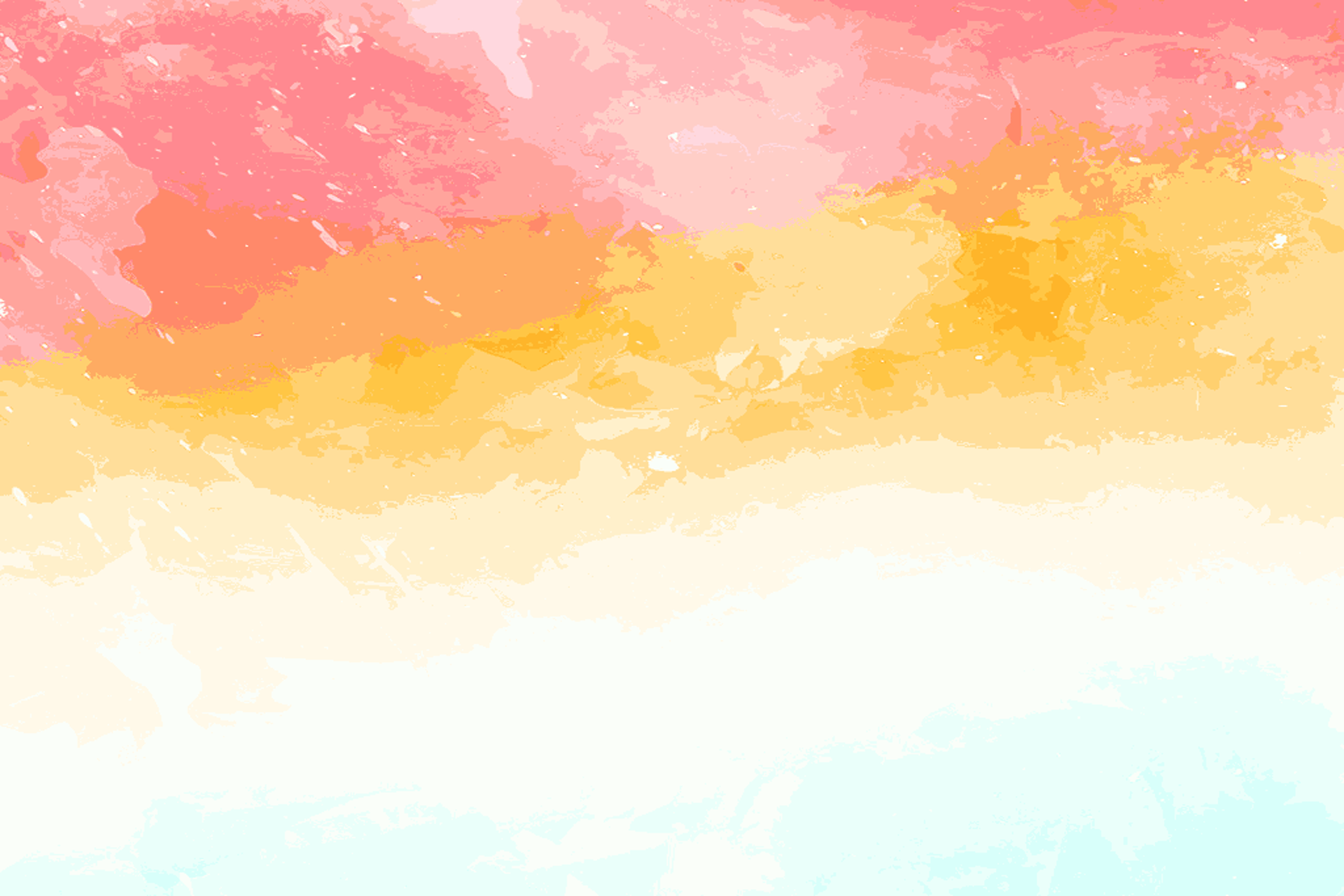 Get coloured in Vraj Prema Bhakti!
❤️
If you are someone who is passionate about spirituality, Vrindavan, Radharani and Krishna, then this book is a treasure trove of information that has been put together in a systematic manner to help bypass all the long and winding roads of spiritual search with a clear roadmap to attain the inner Vraj Prema Bhakti.
Unlock the Secrets of Devotional Life!
The important confidential position of Vrindavan Dham, Radharani, Krishna and Chaitanya Mahaprabhu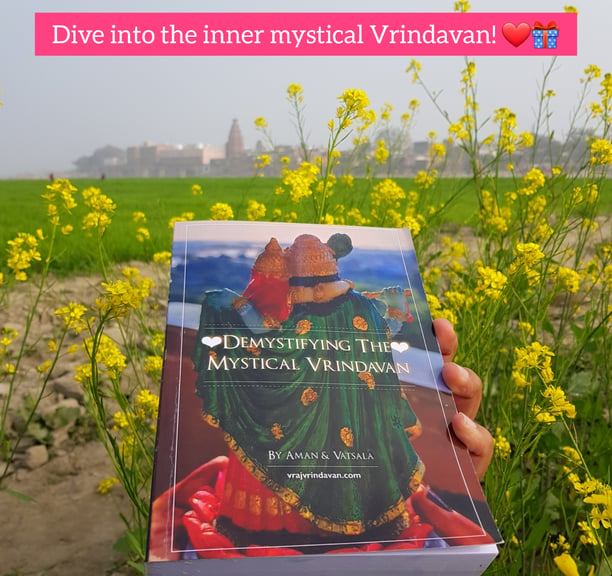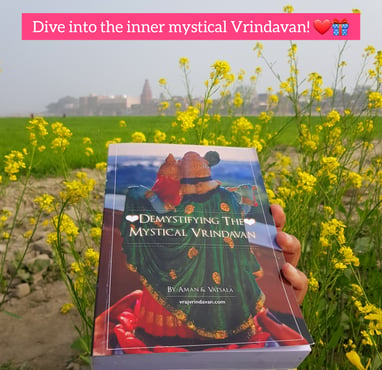 The emotional and free flow of loving reciprocation with Vrindavan Dham, Radharani and Krishna
Digging into the important questions of spirituality - Authenticity, Sects, Karma, Guru Tattva, Mind, Conciousness in a scientific manner
Final conclusion of the spiritual path leveraging all the directions and cheat codes of our Acharyas
The essence and inner meaning of Kirtan & Nama
Your eternal home, Sri Vrindavan Dham awaits you!
What Sincere Spiritual Seekers Feel
About The Book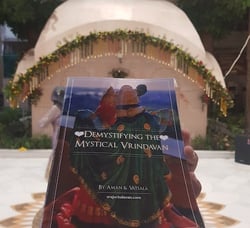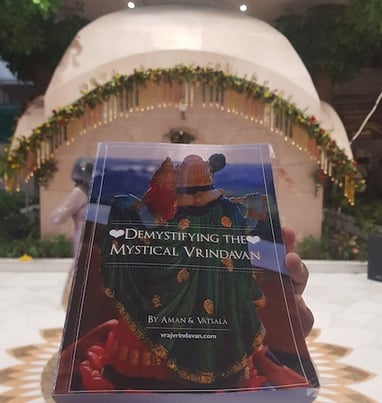 Those who are really interested in the rarest Vrindavan Prema Rasa and Rupanuga Bhajan, it's a must-read book for them.
Just pick up the book and start to read. The result will be that you will feel you are in the Nivritta Nikunja (groves) of Radharani & Krishna, doing seva under the guidance of Rupa Manjari, Srila Prabhupada, and the Guru Shishya Parampara.
- Hiranmay Das, West Bengal
What to say?..... Each page of the book is each one's heart of Vraj. I felt like simple mellow in my taste. Heard from my ancestors that great teachings are always taught in such a way!
- Vishakha Devi Dasi, Coimatore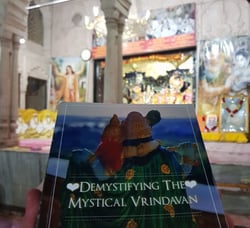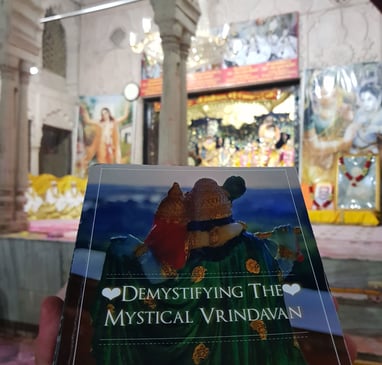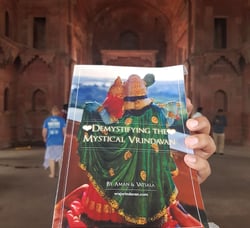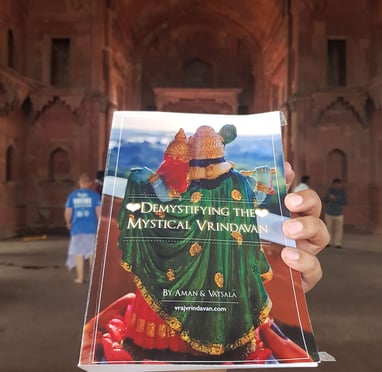 Firstly, I want to tell you that I am very grateful for this book. Guru Tattva guide us to the right knowledge needed at right time, and this book is what happened with me!
- Roshnee, London (UK)
There are four sections in the book, with sections III & IV being the most confidential crux, best reserved for genuine sincere seekers. Download the complete Index of the book here.
Unlock Your Spiritual Learning Now!


Aman Kashyap
Vatsala Upadhyay Kashyap
By Guru Kripa, the book has been compiled by myself, Aman, and my wife Vatsala. By mercy of our Acharyas, Vrindavan Dham is our all in all.
I have been mercifully blessed by Sri Vrindavan Dham to take up residence here since Dec '17, and I am a seeker in quest of Srimati Radharani and Krishna playing in the groves of Vraj Vrindavan, following in the mood of Srila Rupa Goswami, Srila Prabhupada & Sripad Aindra Prabhu.
Though it doesn't really matter, but just for the sake of general visitors on this site, professionally, I am an engineer turned storyteller, filmmaker, capital market professional and media consultant. I hold an engineering degree from the Institute of Chemical Technology, Mumbai.
Vatsala is a science graduate from University of Delhi, and is into writing and painting for her own meditation on Divine Couple. We are based in the merciful shelter of our dear Vrindavan Dham.
Book Format: Premium Paperback
No. of Pages: 297
Language: English
Publication Date: November 4, 2022
Book Size: A5
Publisher: Vraj Vrindavan (contact@vrajvrindavan.com)
WhatsApp Support / Order by WhatsApp: +91 7004 963 467
Country of Origin: India (Bharat)


This book is the essence and crux of this entire website. If you are seriously considering to dive into the inner confidential aspects & final goal of our Vedic Scriptures and spiritual life, and if Sriji inspires you, do get a copy of the book.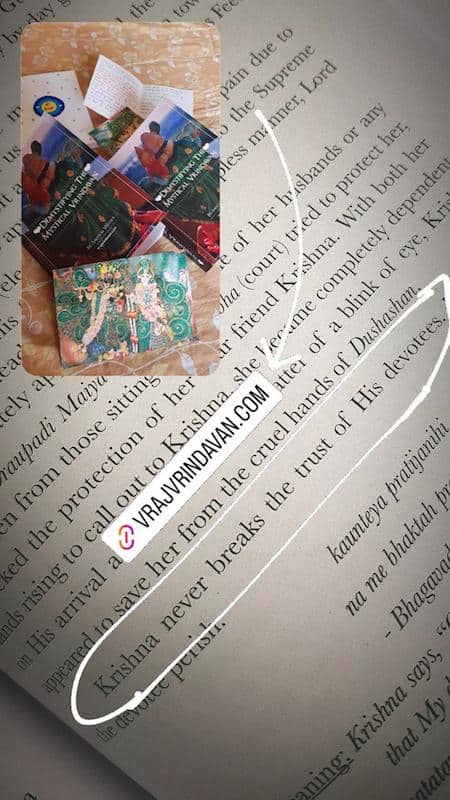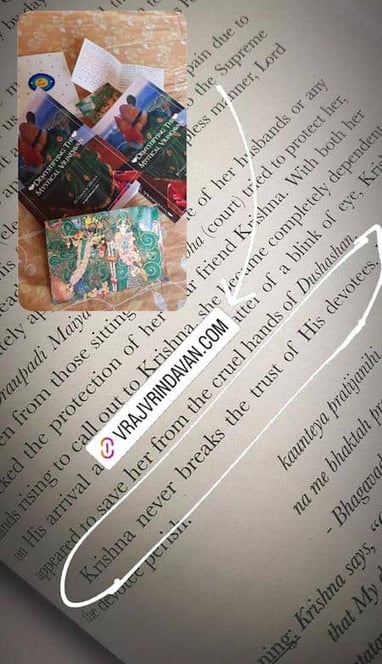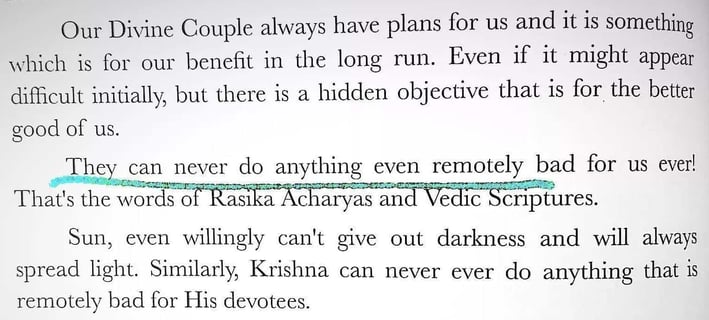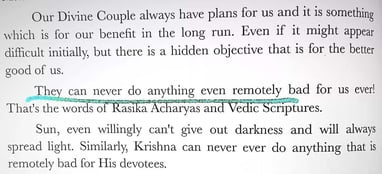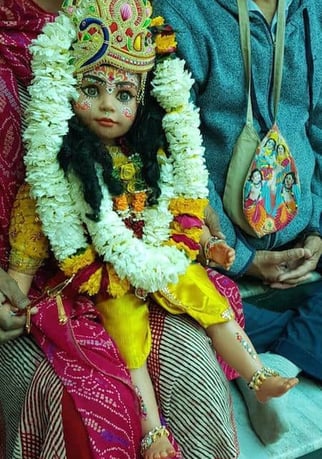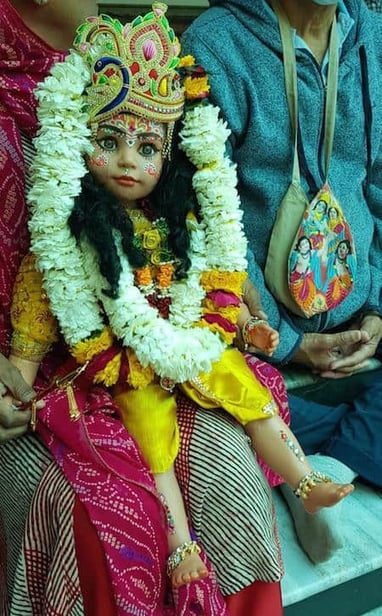 Krishna, The Supreme Personality of Godhead runs 1000 steps towards His dear devotees when they take a single little baby step towards Him with love! ❤️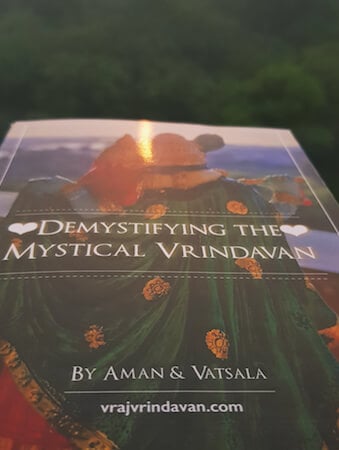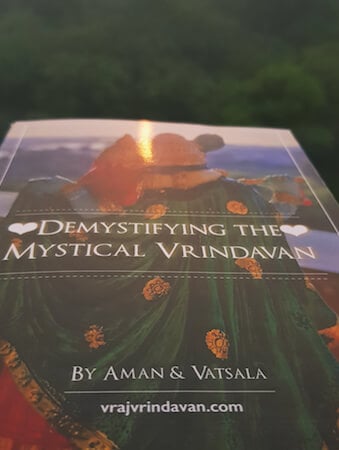 Diving in the devotional life scientifically & logically in an easy to understand & concise manner
Goal and culmination of Vedic scriptures and texts
Navigating the topsy turvy, bewildering and confusing spiritual path
Unlocking the internal Vrindavan, the real Vrindavan!
FAQ's
Q: Are the four sections / volume's in one book itself?
A: Yes.
Q: Is the book available on Amazon, Flipkart or other online platforms?
A: No. To limit the book's reach and make it available only for genuine seekers who can value it, it's just available on our website vrajvrindavan.com only.